Are you taking advantage of Nexline's Teams (UC) Client?
The modern office is wherever you are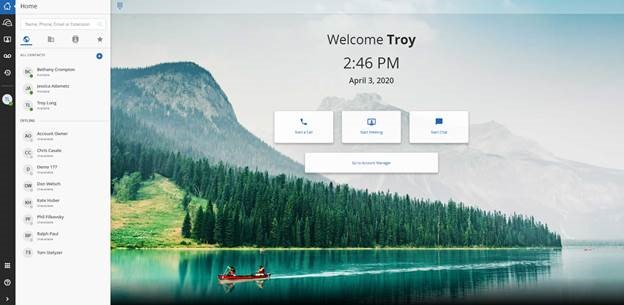 If you have a desk phone or a mobile app, you have UC client.
Calls/Meetings/Videos

Make calls from the phone system using your computer's speakers and microphone.

Users can start and conduct full video experience meetings; one-to-one, and one-to-many, with guests inside or outside of their company. (Could also be used as a virtual meeting with friends and loved ones during Quarantine.)

Chat

Users can chat with others one-to-one, and one-to many across their entire organization with the click of a button. There's no need to jump between multiple programs and screens.

Screen Sharing

Users and guests can share screens in meetings to collaborate, whether it's on one screen, multiple screens, several browser windows, or just specific applications.

Calling, chat, meetings, voicemail all in one place

Work anywhere, with any device

Voicemails at-a-glance with voicemail transcription

Easily access your enterprise contacts

Don't forget that when you invested in PureEdge/NexLine Phones and Voice Services you equipped your business for the future and to cope with times like these. Our cloud-based VoIP solutions assure your business communications can continue to operate as needed. If you need assistance restructuring auto attendants, call flow, or home offices setup, we can help.